Premium Treadmill Repair and Maintenance Services to Keep You Moving
Are you facing problems with your treadmill?
Just like you, many fitness enthusiasts encounter issues with their treadmills. Whether it's a sudden stop during your cardio session or unusual noises from the machine, the situation can be frustrating and derail your fitness goals. A treadmill repair is likely at some point.
Neglected maintenance could lead to bigger issues.
Over time, unattended minor treadmill issues can become major problems. Manufacturers recommend regular treadmill maintenance, not only to prevent breakdowns but to prolong the lifespan of your fitness machine. Skimping on upkeep could mean costlier treadmill repairs down the line or even a complete machine replacement.
Choose Our Treadmill Repair Services for a Seamless Fitness Journey
At ServiceRX, we offer an experienced team of technicians, providing top-notch treadmill repair and preventive maintenance services. We handle all brands and types of machines, offering swift turnarounds to get you back on your fitness track. Trust us to bring your treadmill back to its prime condition.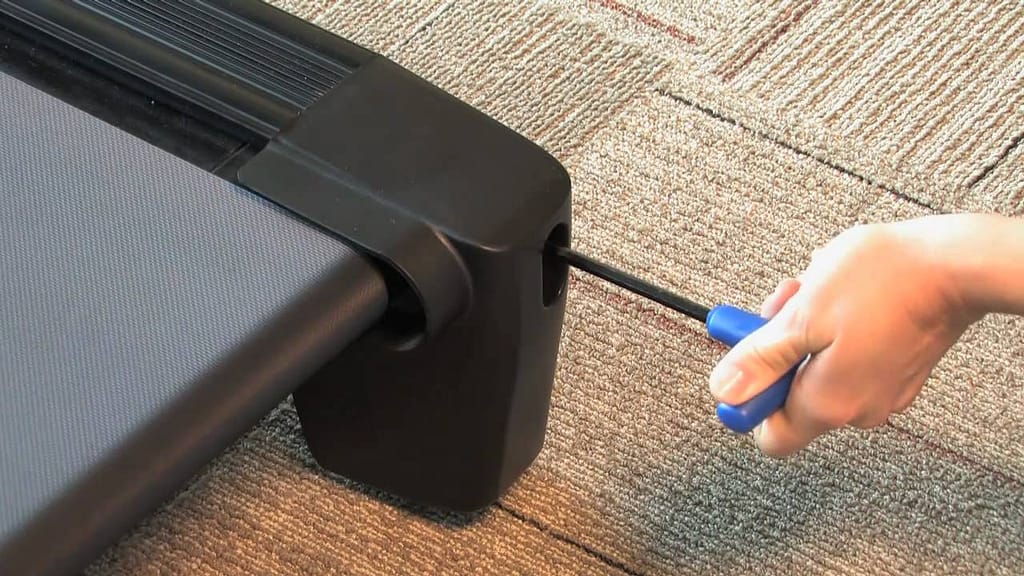 Our Recommended Treadmill Maintenance Plan
To avoid extensive treadmill repair services, we provide a comprehensive maintenance plan tailored for your equipment's optimal performance:
Weekly:
Cleaning treadmill surfaces
Checking belt alignment
Ensuring control buttons function properly
Monthly:
Vacuuming under the treadmill's hood
Checking drive belt alignment and wear
Calibrating the treadmill to verify proper functions
Quarterly:
Lubricating the belt, deck, and elevation screw
Tightening all screws and bolts
Yearly:
Comprehensive check and preventive maintenance
How We Work
Do you require our services for a treadmill repair? The steps are as follows:
Step 1: Get in Touch
Get in touch with us by filling out a form on the website or calling your local office to tell us your repair needs. See your city's webpage for your local number.
Step 2: Receive Quote
Get feedback from us. We will provide a free, no-obligation professional consultation from our highly experienced personnel.
Step 3: Get Professional Repair Services
We arrive at your facility equipped with the right tools to perform the repairs. Get the best fitness equipment repair services near you.
Why Choose Us?
Our commitment to you the customer is done through superior service.
Demonstrated with every customer, every call, every day.
Our trained technicians work on all types of fitness equipment brands and perform thousands of treadmill repairs. No job is too big for us. We also go the extra mile to teach our clients how to handle simple repairs before getting professional help. Think of us as a resource for when you simply have a question or want to order your next equipment purchase. For all top brands, we now offer warranty repairs or installation. Gaining the confidence of national manufacturers as well as you, the client, took many years. Payment for in-home or business repairs is fast and simple.
ServiceRX provides certified service repair technicians to North Carolina, South Carolina, Georgia, Virginia, and Maryland regions. So whether it is a treadmill repair or weight system we got you covered in Raleigh, Durham, Chapel Hill, Fayetteville, Charlotte, Greenville, Columbia, Atlanta, Marietta, Alpharetta, Athens, Fairfax, Fredericksburg, Washington DC, and more Cities near you.
Fitness Equipment Repair Near Me: Your Equipment is in Top Condition
ServiceRX has your back if you need repair services for your exercise equipment. We serve the whole Mid-Atlantic region. Get in touch for exercise equipment repair including treadmill repair, elliptical repair, and more.
No matter if it is a treadmill repair in Charlotte, Greensboro, or Manassas. Or the assembly of a new piece of equipment in Alexandria VA. Our goal is to provide service beyond your satisfaction. This can be accomplished in multiple ways.
We can provide multiple levels of care, from total care of the facility to serve as needed. We are always available for phone support as well.
We can train you the residential customer or the staff in a facility to perform basic repairs.
Educate our clients so that they can take better care of the Fitness Equipment on a daily basis.
Consider us a resource when you just need to ask a question or are looking for that next piece of equipment. We are now providing warranty repair or installation for all major brands. We are proud to be able to say that.
We accept Visa, MasterCard, American Express, Discover Card, and checks for all repair services. You are conveniently invoiced for service and parts via our secure email payment system.